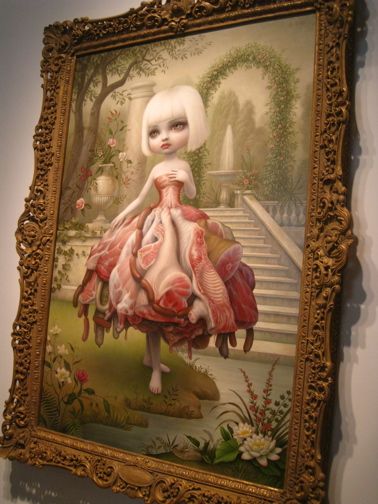 Attended the Mark Ryden opening last night at
Paul Kasmin.
My own personal layman's take on the show is probably neither compelling nor different from what you'll read elsewhere, but since I am a river to my people, here you go...
I really do love the luminous effect that you see in a Mark Ryden painting: a soft, ravishing glow seems to come from everything, and the perverse confectionery palette brings to mind the kind of colors Matthew Barney uses in his Cremaster series. (Pastel color palettes have become a pervy kind of shorthand, haven't they?)
Where I get hung up with Mark Ryden's work (perhaps unfairly, since his work isn't meant to be about big ideas) is the subject matter: how he paints is far more interesting than what he paints. The obvious, fantastical aspects of his work are fun, but beyond the initial impact, they don't sustain my interest. Of course, the shallow kitsch value of his subjects is part of the point, and using a set amount of motifs over and over is a kind of brand-building, which makes perfect sense from a business angle. I'm not saying this is a calculated move on Mr. Ryden's part, but cultivating a limited suite of motifs has served him well: the opening last night was mobbed by throngs of baby doll girls,
sausage dresses,
and
people covered in plastic steaks.
But that's what Pop Surrealism is about: despite whatever shortcomings the genre may have, there's an admirable openness and participation. Everyone was having a good time
dressing up
and milling about. Seems like the real art was on the backs of the fans, not the walls--and good for them, I say. Can't imagine the same sort of thing happening at a Sol LeWitt retrospective.
All that being said, I do wonder what the result would be if Mr. Ryden decided to make the everyday strange rather than vice versa. I suppose that's why I'm more of a
John Currin
fan: I like how he applies his grotesque, satirical virtuosity to subjects that reflect daily life--which is already weird and compelling.