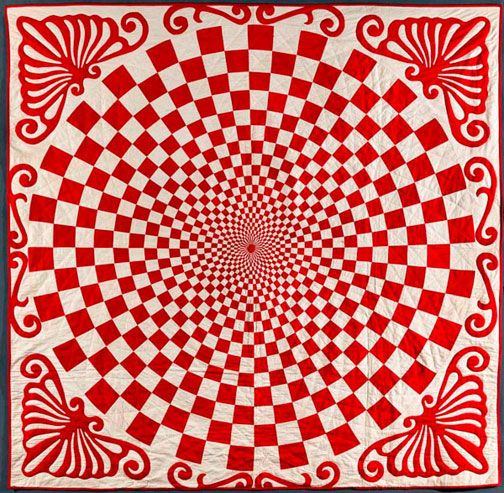 I would have loved to have seen this incredible collection of 650 quilts in person. It was on display at the Park Avenue Armory this week only, ending today. To have them up so briefly is understandable (we're talking about 200 year-old textiles in some cases), but it's downright cruel just the same:
the display looked fantastic.
I love the narrow focus and rigor of the collection: the simplicity of the patterns, when taken as a whole, feels modern.
The environment
that the quilts create has an Alice in Wonderland atmosphere, as if the exhibition was a giant house of cards. I especially love the idea of breathing new life into antique, homespun objects by turning them into a universe of rhyming forms and shapes. Even though I'm sad that I didn't get to see it myself, I do love that it was a fleeting experience; this appeals to the plant nerd in me, I think.
The
The American Folk Art Museum website
says:
The American Folk Art Museum has dramatically transformed the Park Avenue Armory's historic 55,000-square-foot Wade Thompson Drill Hall with the installation of 650 red and white American quilts, all of which are on loan from the collection of Joanna S. Rose. It is the largest exhibition of quilts ever held in the city. This magical but ephemeral moment will ultimately be captured in the pages of a fully illustrated catalog copublished by the American Folk Art Museum and written by Elizabeth V. Warren, guest curator of this spectacular presentation.